To qualify for government student loans you must be:
a full-time student registered in 9 or more credit hours each semester
a citizen or permanent resident of Canada
Students who are registered in 6-8 credit hours may be eligible for a part-time student loan.
Financial need is assessed based on personal income and financial situation. Typically, the maximum amount students can receive is $10,880 per year. It is important to find additional financial sources to cover your tuition and living expenses. Once your loan has been approved you will receive an email from National Student Loan (NSLC) outlining how to set up an account. Follow their instructions in order to complete your loan and receive your funding. For more information visit the Canadian Student Loans website.
How to Apply for Canadian Student Loans
First – Are You Eligible?
Enrolled in 9+ credits/semester at Columbia:You can apply for a full-time student loan.
Enrolled in 6-8 credits/semester at Columbia: You can apply for a part-time student loan.
Enrolled in the EA certificate only: Educational Assistant Certificate students aren't eligible for student loans.
Need a form filled out by Columbia for your loan?
Just say the word. Please email Chantelle with your request.
1- Register for Classes
If you've been accepted to Columbia, but still haven't registered, email Admissions to set up an appointment.
2- Are you from BC?
3- Apply through your home province
Use the links below to access your province's student loan program.
Applications open in early June for the upcoming school year and typically take 4-6 weeks to process.
Aim to submit your application by July 15th for the fall semester/full academic year, or by November 1st for the Winter semester.
You can wait to apply for a loan until 6 or 8 weeks before the end of your study period, but we don't recommend it. It is best to apply for student loans as soon as possible to ensure that your application is processed before the financial payment deadline.
4- Know your Start & End Dates
Your student loan application will ask you to provide start and end dates for your program: September 6, 2022 to April 25, 2023. Using different dates will delay the processing of your application.
5- Are You From Alberta?
Alberta student loan applicants need to refer to 

this document

, detailing program costs, as you complete your application.
6- Submit Your Documents
Send your 

Financial Aid Advisor

 your Notification of Assessment or your Funding Summary once you've received it from the government.
If you have applied for your loan but it has not been approved by payment deadline (August 15 for the fall semester), you will need to follow the Student Loan Payment Plan (see Payment Plans & Dates below).
Students from the United States have many options for obtaining student loans through private institutions and banks. Columbia participates in two main American financial aid programs: the Federal Student Aid Direct Loan Program and the Sallie Mae Smart Option Loan Program.
Federal Student Aid Direct Loan Program
To apply for a Direct Loan complete the following steps:
Once your loan has been processed and approved, Columbia will notify you with an award letter and an award acceptance form which you must fill out and return to the school. Your loan will be disbursed in two equal installments (one each semester) and will be deposited directly into your Student Account. For more information visit the US Direct Loans website.
More information:
The Direct Loan program is funded through the US Department of Education and offers three kinds of loans for students attending schools outside the United States:
Subsidized Loans: low-interest loans that remain interest and payment free while the student is in school.
Unsubsidized Loans: low-interest loans that accrue interest continually but remain payment free while the student is in school.
Parent PLUS Loans: low-interest loans taken out by a parent on behalf of the student.
Students may apply for one or more of these loans at the same time. The subsidized and unsubsidized loans provide financial assistance to a maximum amount determined by several factors. Parent PLUS loans have no limits, but can only be approved up to the remaining financial need after a student's subsidized and unsubsidized loan limits have been reached.
Columbia adheres to the guidelines of administering the US Direct Loan Program as set out by the US Department of Education. The following students will not be eligible to receive loan funds from the US Direct Loan Program:
Students admitted as Mature Students;
Students taking online courses;
Students registered in certificate programs;
Students registered in diploma programs;
Students participating in internships that do not take place on campus under direct supervision of Columbia staff and/or faculty.
For more information regarding Columbia's admissions and withdrawal policies, please see our Academic Catalogue.
For Consumer Information Disclosures, please click here.
The following policies apply only to students borrowing US Direct Loan funds. It is the student's responsibility to be familiar with them: Return to Title IV (R2T4) Policy and Satisfactory Academic Progress (SAP) Policy.
Sallie Mae Smart Option Loans
Sallie Mae Smart Option Loans are funded through the US Department of Education and require students to make small, interest-only payments while in school. The benefit of a Sallie Mae Smart Option Loan is that they tend to approve higher borrowing amounts than Direct Loans with fewer restrictions.
For more information and to apply, visit the Sallie Mae Smart Option Loans website.
Columbia offers several ways for students to make payments to their student account:
Online/Telebanking
Columbia is set up with most major banks and Credit Unions. Simply add Columbia Bible College as a payee and use your Student ID as your account number.
Credit Card, PayPal, Alipay or Interac eTransfer only through PaySimply
Visit PaySimply, our secure third party payment provider, to pay online with any major credit card (Visa, MC, Amex), PayPal or Interac eTransfer. Please allow 3 business days for processing. A convenience fee will be applied to cover payment handling and processing charges.
Cash/Cheque
Please bring payment to Reception (1st floor of Resource Center) during regular business hours. If mailing a cheque (do not mail cash), envelopes must be post stamped before the payment deadline to avoid late payment fees.
Cash or Debit at Canada Post
Visit PaySimply, our secure third party payment provider, to generate a QR code to take with you to Canada Post with your payment. Please allow 3 business days for processing. A convenience fee will be applied to cover payment handling and processing charges
Debit
Only available at Reception.
Wire Transfer
Please contact Reception to receive more information regarding wire transfer procedures.
Passport to Education
Can be dropped off at Reception or mailed ATTN: Financial Aid. The passport must be received by the college prior to the payment deadline to be used towards that semester's fees.
Columbia offers three different payment plans for students. Click on the plans below for more information and payment dates: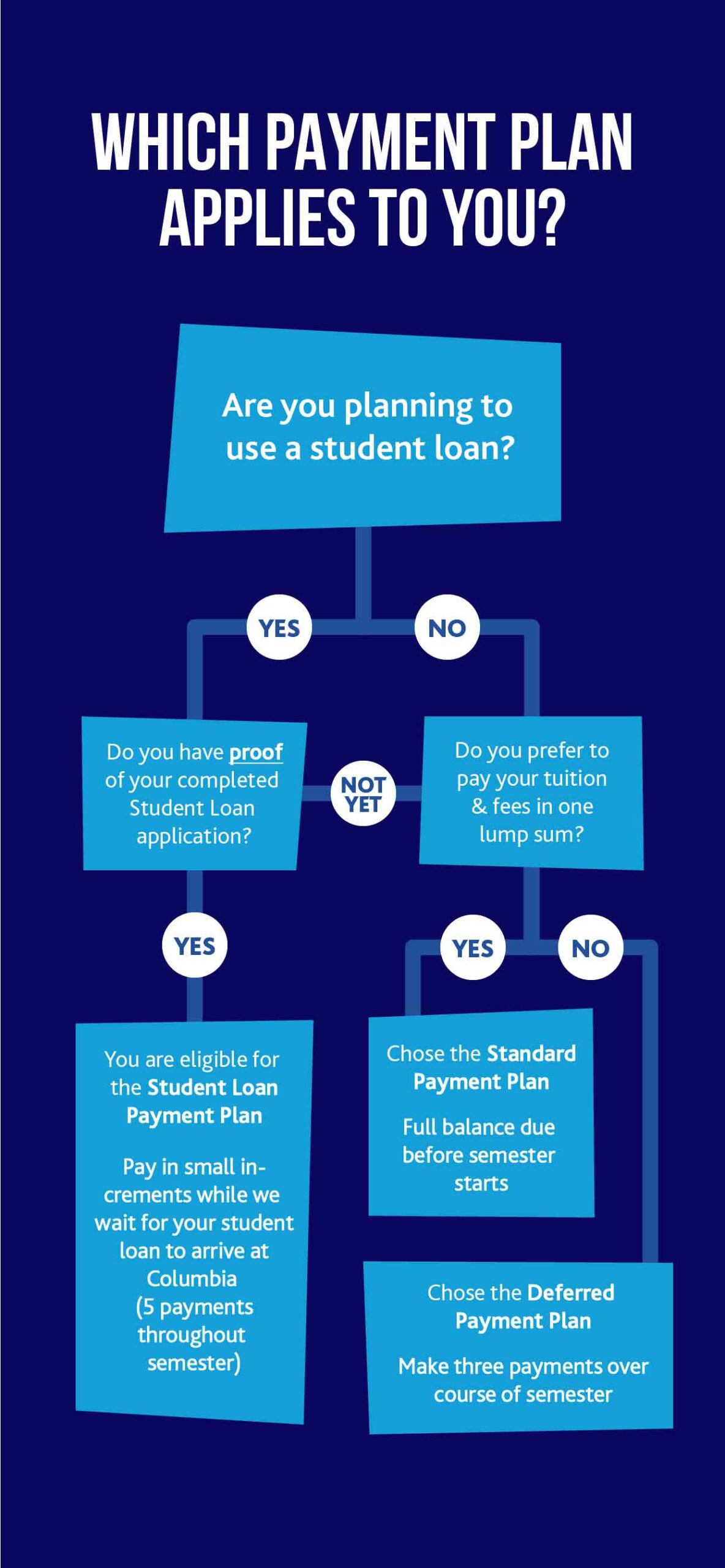 Standard Payment Plan
Deferred Payment Plan
Student Loan Payment Plan
External Funding
For questions or concerns in regards to Payment Policies, or to see the policies, please contact the Student Accounts Clerk.
Payment Deadlines
If a payment deadline falls on a weekend or statutory holiday, payments made in person or by phone must be done within regular office hours on the previous business day. Late payments will be subject to late fees. Failure to finalize payment within a reasonable amount of time (as determined by Columbia) will result in withdrawal from the College.
Payments After Due Date
Missing a payment will result in a $150 charge. If a student cheque is returned for any reason, a fee of $25 will be charged to the student's account. Students with unpaid accounts will not be permitted to return or register the following semester until the account is paid in full. Appropriate steps will be taken to collect outstanding accounts.
Student Loan Information
All student loans are required to be payable to Columbia Bible College until the account has been paid in full. Any resulting over-payment of tuition and fees will be available for a refund as stated below. Student loans not approved at the time of registration will not be considered as approved for the purposes of the Columbia Bible College Financial Agreement.
Refunds from Student Accounts
Only payments received in excess on a student account will be available for a refund after Add/Drop Week. An approved student loan is only deemed received after the funds have been wire transferred to Columbia or a cheque has been received by Columbia. Payments received from a parent/legal guardian will only be refunded into the parent's/legal guardian's name unless otherwise instructed in writing. Payments received from a supporting agency will not be refunded to the student without prior written authorization as to the intended purpose of any excess funds. Where more than one sponsoring agency has made payments on a student account, any refunds available will be pro-rated to the overall cost of the invoice in conjunction to the payment made and distributed accordingly to all sponsoring agencies first. Please allow 5 business days for a refund to be processed.
Refund Policy for Voluntary Withdrawal and Dismissal
Bookstore Charge Authorizations
Bookstore charge authorizations will only be issued to the maximum amount of credit available on the student's account. Bookstore charging is to be used for textbooks only and will not be available for personal items. As these authorizations are retained by the bookstore at the time of purchase, it is advised that a student is fully aware of all required textbooks before making purchases (any amount not used cannot be carried forward as credit).