Summer Housing
Are you staying in Abbotsford over the summer and need a place to stay? Did you know you could stay in dorms at Columbia?
We have limited spots available for students to remain in residence over the summer months, so apply now!
Here are some important details to be aware of:
Applications will be processed and confirmations will be sent out (do not assume you are staying in dorms until you have been confirmed)
Once confirmed, the damage deposit is due March 15th to reserve your spot (If you change your mind after this date you forfeit your deposit)
Students are required to move out by August 15 for cleaning and fall preparation (returning students will be relocated)
All summer residents are required to comply to community standards as outlined in the CBC Student Handbook
Rent of $450 is due on the first of each month
Apply
Campus Rentals & Conferences
As a event venue, Columbia has so much going for it: versatile and attractive meeting spaces, a beautiful campus, comfortable accommodations, delicious in-house catering services, and a central location.
Our best feature is our team of friendly, professional, and highly competent staff. Our Conferences & Catering team will make sure that your event runs smoothly, and that all your needs are met.
Columbia is the ideal venue for everything from business meetings to conferences to overnight retreats to family reunions. During the months of May through mid-August most of the campus is available for rental, during the school year rental of the campus is limited to areas not used for classes or student life. Come spend some time with us!
Request Info
Meeting Spaces for all Sizes
One of our most popular meeting rooms, the Clearwood Room has large windows and a bright airy feel. It is a versatile room that can be configured for meals, meetings, or lecture-style events.
GOOD TO KNOW
Capacity: 72 guests.
Amenities: Built-in LCD projector & sound system, exterior access.
This beautifully-appointed meeting space seats up to 10 and is ideal for a team meeting.
GOOD TO KNOW
Capacity: 10 guests (seated).
Amenities: Large TV screen for slide presentations, white board.
Learn more about the Metzger Collection
Columbia has several meeting rooms around campus suitable for meetings up to 75 people. Many come equipped with A/V capabilities including LCD projector and built in sound system. Lounges are also available for guests looking for a more relaxed atmosphere.
GOOD TO KNOW
Capacity: Suitable for 25-60 people.
Amenities: Built-in LCD projector & sound system.
With seating for up to 230 people and a raised stage, the Chapel is ideal for church services, weddings, and other larger events. Full audio and visual equipment is available upon request (additional charges may apply).
GOOD TO KNOW
Capacity: 230 seated.
Amenities: Full AV equipment available (additional charges may apply). Raised stage, grand piano, drums.
The Dining Hall is an ideal venue for banquets and other larger events. Overflow seating is available with the adjoining Clearwood Room.
GOOD TO KNOW
Capacity: 230 guests, around tables of six.
Amenities: Built-in Sound System.
Columbia Place Gymnasium/Banquet Hall
Columbia Place is home to Bearcat Athletics and includes regulation size volleyball and basketball courts with bleacher seating for up to 1000. The large gymnasium can also be converted into a banquet hall with tabled seating up to 500. Additionally, Columbia Place houses the fully equipped Fitness Center.
GOOD TO KNOW
Capacity: Banquet: 500 guests (table seating). Gymnasium: 1000 in bleachers.
Amenities: Round tables, chairs, and blue floor covering included. Portable stage & podium available upon request.
Columbia Campus
Address: 2940 Clearbrook Road, Abbotsford
Our campus is home to 6 buildings spread over 6.5 acres of beautiful green space and has plenty of parking for your guests.
For large events, overflow parking is typically arranged at a neighbouring church.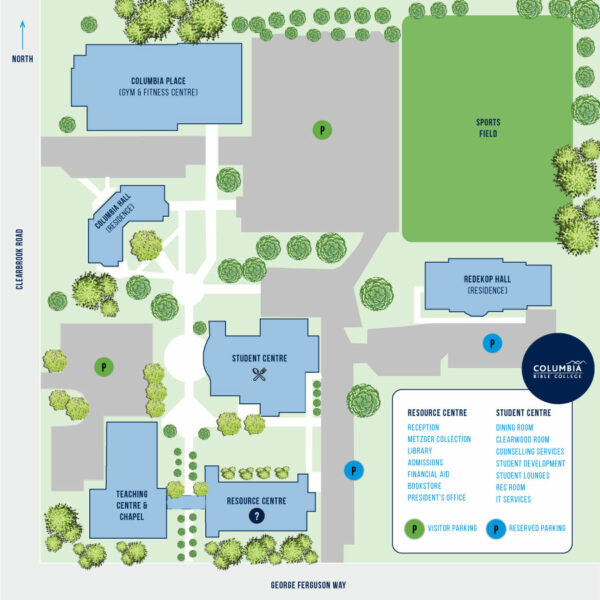 Please get in touch so we can arrange a time for you to take a look around.