"We seek to make disciples who seek to partner with God in his mission of redeeming, reconciling and transforming the world."
Greetings,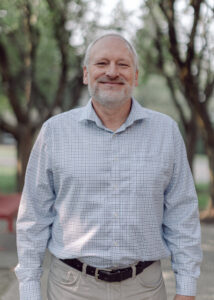 The mission of Columbia Bible College is to equip people for a life of discipleship, ministry and leadership in service to the church and community. Let me explain what that means to us.
Relying on God's Holy Spirit, we are determined to do all we can to ensure that Columbia is a college known for equipping people with a solid biblical foundation that will encourage and challenge them to follow Jesus passionately into whatever vocation God calls them to pursue. We hope and pray that all our students will make a significant impact in the family, in the community, in the career, and in the church where God puts them. Through mentoring, modeling, teaching and praying, we seek to make disciples who seek to partner with God in his mission of redeeming, reconciling and transforming the world.
We believe that God's mission concerns every aspect of our lives. Columbia is all about personal spirituality, academics, ethics, community living, theology and athletics – it is about every aspect of life. Through the power of Jesus living in us, we are aiming to live out the Great Commandment: "to love God with heart, soul, mind and strength," and "to love our neighbours as we love ourselves." This requires a holistic understanding of life that integrates spiritual formation, biblical studies, mission engagement, leadership development with our general studies courses to develop a biblical understanding of life and mission.
I find it exciting to think that you are currently exploring our programs and services, and I hope that you will seek God for direction concerning your educational future. For me, Bible College was a life-changing experience. For the first time, Jesus became real to me, God spoke through the Bible in ways I had never experienced, I became part of a community that loved and encouraged me even though I was far from perfect, and God gave me a sense of calling towards his plan for my life. I want to see the same kinds of things happen in the life of every Columbia Bible College student.
We would love to see you at Columbia, but most of all, we want to see you engaged in God's incredible mission of reconciling "to himself all things, whether things on earth or in heaven, by making peace through his blood, shed on the cross" (Col. 1:20).
Grace & peace,
Bryan Born
President
The Columbia Bible College LEAD Team consists of Administrative Faculty who are responsible for shaping the philosophy of the College, defining the style of the institution and developing vision, aims and objectives.
The Board of Directors is responsible for the direction, operation and leadership of Columbia Bible College. This dedicated team is comprised of members from Columbia's two supporting denominations: Mennonite Brethren Church of British Columbia (BCMB) and Mennonite Church British Columbia (MCBC). For more information regarding Columbia Board of Directors, please contact us.
Faculty Emeriti & Past Presidents