Info For Students from the US
An
affordable, international

experience that's close to

home

.
When you venture across the border to study in Canada, you're joining thousands of American college students who are seeking an international education that's close to home. Studying in Canada allows you to experience a culture that is distinct from the US, but one that's easy for newcomers to navigate and doesn't require learning a new language. You'll have the chance to live in a unique country renowned for its natural beauty, its emphasis on cultural diversity, and its commitment to all-around politeness. When you graduate, you'll have a valuable degree and a well-rounded perspective on social, political, and cultural issues.
Columbia's location in Abbotsford is great for those who want the amenities of a city but with a small-town feel: it's quaint, friendly, and puts you close to farmland, mountains, rivers, and the ocean. Just five minutes from the border, Abbotsford also gives you easy access to the States. On the Canadian side, you'll enjoy that the world-class West Coast city of Vancouver, BC is within easy driving distance, just one hour away.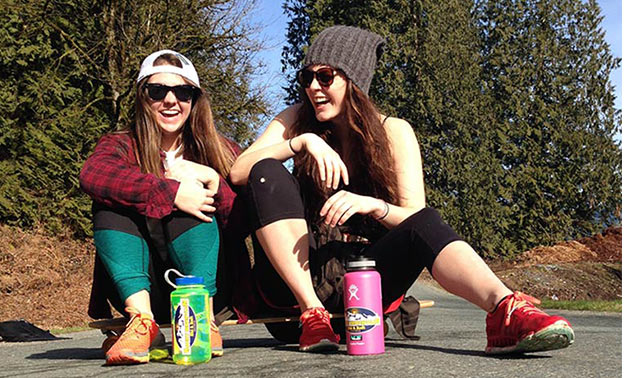 Meet Morgan (left)
BA Outdoor Leadership | Class of 2020
Hometown: South Forks, CO
"In January, I abandoned my most sacred comfort zone in the 400-person town called South Fork, Colorado. The next thing I knew it was two long days of driving later and I was leaving the safety of my own country for the very first time. I've now had the opportunity to see my comfort zone grow and reshape, molding my dreams and confidence and trust in God right along with it."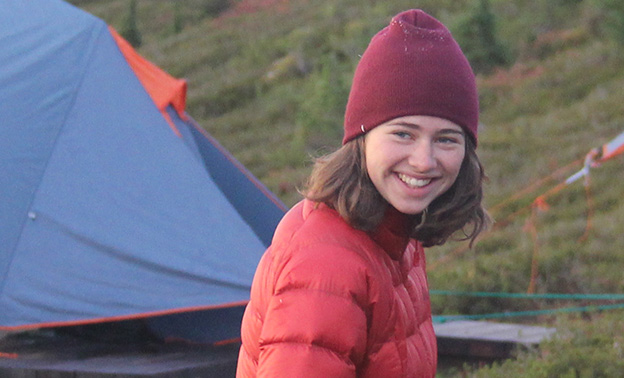 Meet Genny
Quest | Class of 2017
Hometown: Camano Island, WA
"I decided to attend Columbia after their spring view day. Up in Abbotsford, I was enamored by the people I met and the campus itself. I got to sit in on a class that incorporated our King and the Bible into daily life so seamlessly that I was both marveled and excited. After the necessary paperwork, school started and I set up house in Redekop Hall with a truly amazing roomie. Over two full, beautiful semesters, my adoration grew for all the people I had the privilege of learning with and from. Whenever my family or friends ask me about school my reply is a tumult of laughter-filled tales from my first year."
Meet Grant
BA in Worship Arts | Class of 2018
Hometown: Robbinsdale, MN
"I had heard nothing but good feedback from those who attended Columbia and the life-changing and faith-building learning they experienced here. Columbia's tuition was a fraction of what I would pay in the States. That, combined with its great location in beautiful BC made Columbia my top bible college choice, and I have no regrets. My time here has been very transformative."
Permits & Visas
Study Permit:
Useful Resources:
Study Permit Tutorial:
Step-by-step instructions, required documents, and other important information about applying for your study permit.
Will my degree be recognized in the US?
Yes! Columbia Bible College is recognized by the U.S. Department of Education, and is also a member of the Association for Biblical Higher Education (ABHE). Our alumni have much success in career and graduate studies placements in the US.
Are your fees listed in Canadian Currency?
Yes. All fees on our website are listed in Canadian dollars. This is good news for US students, as it is a significant financial savings! For example, in January 2023 the exchange is $1.33 CAD to $1.00 USD. If you are looking at $16,000 CND for full time tuition, room & board, it equals $12,717 USD. That's a savings of over $3,000! Exchange rates vary daily, so check
www.xe.com
for today's exchange rate.
Are there additional fees for US students?
No! US students do not pay any international student fees. The combination of no international fees, US exchange rate and already affordable Canadian education makes a Columbia education an excellent value.
What about Taxes?
Understand how taxes work in Canada and get a SIN for awards and scholarships, or to work.
Taxes Info
What about health insurance?
Should I bring my car?
You can, but you certainly don't need one on campus. All necessities are within walking distance from campus. You can usually catch a ride with a friend for excursions. If you choose to bring a vehicle, we have parking on campus for reasonable rates. You don't need to change license plates, but you will need to fill out a study permit exemption form by
contacting ICBC
 directly.
Am I able to work while in Canada on a study permit?
There are a a few important things to know if you're hoping to work while studying at CBC:  
Working While Studying
What kind of financial aid do US students qualify for?