Tribute to Professor Gerald Janzen - December 5, 2023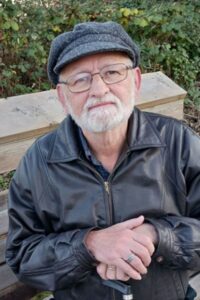 A Man of His Word:
It is a privilege to contribute some reflections on my friend and CBC colleague, Gerald Janzen. Unstintingly, he was a man of honour. Knowing truth and telling truth was at the core of his being. For Gerald, a promise made was a debt never left unpaid.
The moving tributes at Gerald's memorial service, on Friday, November 17, 2023, by his family bear eloquent testimony to his faithfulness as the anchor of the Janzen family.
A Man Skillful in Using Words:
Gerald's mind was generously fortified with wit and wisdom that for him was always accessible. He masterfully knew how to see humour in the foibles of others without inflicting injury by his observations.
Very evidently, Gerald read widely and was blessed with an enviable recall. His skill in pontificating on almost any subject made him a fascinating conversationalist.
My own frequent interactions with Gerald over a coffee or lunch were never prosaic. Gerald had a way of saying things that rewarded me with fresh insights and curiosity about what else might be added to that conversation.
A Man of the Word:
Gerald was a student of the Bible, being particularly exercised to employ an Anabaptist hermeneutic in understanding how he read and taught the Word. That said, Gerald's own deep convictions never prevented him from seeing issues from an alternative perspective.
In preparation for his life-long teaching career, Gerald earned two masters degrees: one at the Mennonite Brethren Seminary in Fresno, California, and the other, his Master of Theology degree at Regent College.  His disciplined study of the Bible, as articulated in his Regent thesis, needed 120 pages to zone in on for him the inexhaustible wisdom of 10 verses in Ephesians chapter 6. And then as he variously allowed, that further implications of this text were beyond the scope of this writing.
Movingly, inscribed in his own handwriting at the front of his thesis, are these words: "To those who read this thesis, I hope it adds a small measure to your own understanding of God's word, and builds your faith."
A Man Loyal to the Author of the Word:
Often I was inspired by Gerald's bed-rock faith in Jesus Christ, which never wavered, even during the final approximately two decades of his life when his energies were proscribed by a difficult stroke.  Of immense curiosity for Gerald was an evident present and practical spirituality, often expressed through his prayers. Gerald was not averse to participating in prayer walks around the Columbia campus, pleading God's protection over students and colleagues.
When the new Columbia Bible College library was built in 1992, it was thanks to Gerald's encouragement that a beautiful stained-glass work of art adorns the entrance to the college library. Designed and crafted by Gerald's mother Kay Janzen, the Alpha and Omega, not only celebrate the core values of the College, but also the foundation of Gerald's own faith.
A Man Loyal to the Church of the Word:
Gerald loved the church, which translated into active involvement in whatever local congregation he happened to be part of. Regularly attending worship services was a given for him. Fully aware of its short-comings, Gerald was nonetheless persuaded that the Church of Jesus Christ represented the community of Christ. Not surprisingly then, that over the years Gerald taught Sunday School, preached, took in annual denominational meetings, and in several churches, served as congregational moderator. Indeed, it was not long after he had accepted the moderatorship of the Bakerview MB Congregation, that his active involvement was suspended as a result of a devastating stroke.
A poignant comment in Gerald's funeral bulletin notes that "One of [Gerald]'s passions was to make the world a better place." By any standard of measurement, Gerald Janzen richly accomplished that goal in his 77 years on planet earth.
– David Giesbrecht 
Announcing Acting President: Derek Rogusky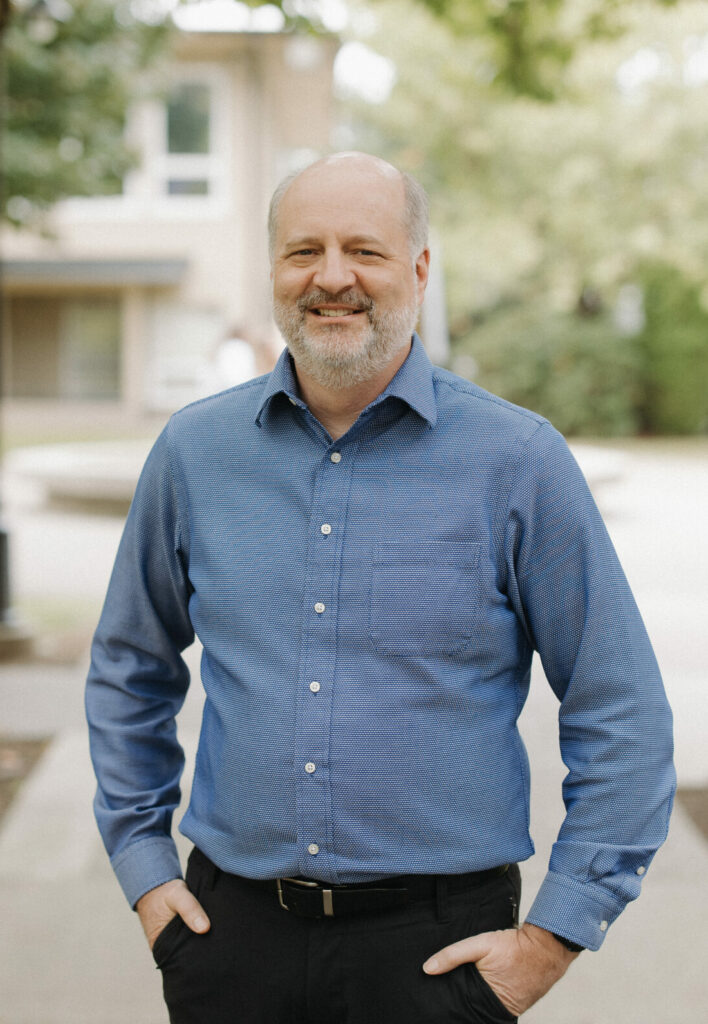 The Columbia Bible College Board of Directors is pleased to announce that Derek Rogusky, current Chief Financial Officer of Columbia, has accepted the role of Acting President effective Wednesday, August 16th. The appointment as Acting President is until July 31, 2024 or until a new president is confirmed.
Derek is a faithful follower of Jesus and is committed to the College's statement of faith. He brings a wealth of ministry experience and business expertise to Columbia. He earned an MBA from the University of Alberta. His wide range of professional experience includes executive leadership with
Focus on the Family Canada, Town + Field Church, and LCC International Fund. Derek's volunteer experience includes having been the Moderator of Jericho Ridge Community Church and serving on the Boards of the Langley Food Bank and Cardus, a Canadian-based Christian think tank.
In announcing Derek's appointment, John Best, CBC's Board Chair, said, "the Board is confident that
Derek and the Transitional Leadership Team will continue to move CBC forward in exciting new ways,
even while we search for a new long-term president."
In collaboration with the Board, Derek will lead the College's Transitional Leadership Team focusing on
the following key priorities this coming year:
Deepening CBC's efforts to disciple young people to become deeply rooted followers of Jesus and prepare them for a life of faithful service inside our churches and beyond.
Renewing CBC's programming to better focus on our mission and partner with like-minded churches and ministries.
Improving student recruitment and communication with CBC's stakeholders.
Developing a more agile organization.
"It is an honour and privilege to be asked to steward the continuing legacy of Columbia Bible College," said Derek in accepting the position. "I am truly blessed to work with an amazing team who are dedicated to helping students discover the God who knows them and build their lives on the solid foundation of Jesus Christ."
Derek and his wife Malinda live in Abbotsford and are active members of Northview Community Church.
Please join us in praying for Derek, the Board, the Transitional Leadership Team, and all the staff, faculty, and students as we begin another exciting year together, faithfully equipping each other for a life of discipleship, ministry, and leadership in service to the church and community.
– Columbia Bible College Board of Directors
COVID-19 Updates - April 19, 2022
Tribute to Professor Emeritus Dr. Gary Yamasaki - February 24, 2022
After a life devoted to God and the study of Scripture, Columbia Bible College Professor Emeritus, Dr. Gary Yamasaki passed away unexpectedly while recovering in hospital on February 19, 2022. Gary had a brilliant mind, and he pursued novel approaches to both studying and teaching the Bible.
During his 26 years as a member of the Columbia faculty (1990-2016), Gary Yamasaki made a positive impact upon many students as he challenged them to delve deeply into God's Word. He always looked for innovative ways of engaging his students. This included making ample use of popular culture – especially movies – as a means of helping students understand biblical texts more clearly. At the same time, he worked hard to introduce his students to the latest developments in Biblical scholarship. Following the conclusion of teaching responsibilities at Columbia, Gary also served as Columbia scholar-in-residence for a number of years. He deported himself in ways consistent with and supportive of the ministry and mission of Columbia Bible College.
Dr. Yamasaki also made his own contribution to scholarship, especially in the area of point-of-view crafting in Biblical stories. His 2007 book entitled Watching a Biblical Narrative: Point of View in Biblical Exegesis was a finalist for the Trinity Book Prize. In 2016, Fortress Press released his volume on the relevance of popular movies for the interpretation of Biblical stories, Reading the Bible in the Twenty-First Century: Insights from Filmmaking for Analyzing Biblical Narrative.
When information becomes available regarding Dr. Gary Yamasaki's memorial/celebration of life service, we will pass it along.
Intercultural Studies Program Change - February 2, 2022
Columbia Bible College is announcing a strategic refocusing around the way we equip students for intercultural ministry and leadership.  As a result, the Intercultural Studies program in its current format will be discontinued. This change is designed to respond to ongoing changes in the world of intercultural mission and to modify our academic programs to meet emerging needs. It is also made in response to budget challenges that we are facing due to enrollment losses and pandemic-related limitations on our activities.
We are seeing significant changes in the world of intercultural mission, changes that have been accelerated by the pandemic.  We live in a globalized world where the influence of the church is dispersed and diverse. We believe that students who want to serve interculturally will need to develop a flexible skill set – one that will enable them to be self-starters and perhaps to work bi-vocationally.
One of the most difficult aspects of these program changes is the impact that they will have on long-term faculty member Kara Bergstrom as this will unfortunately mean the end of her time at Columbia.  Kara has made a significant and valuable contribution to Columbia over the past eight years.  She has been a champion for Intercultural Studies, she has invested with students both inside the classroom and out.  She has also been a dear colleague and an important part of the Columbia team.  Her departure will be felt deeply by students, staff, faculty and alumni.
These changes represent a loss in terms of both a long-term program and a valuable member of our faculty. They also represent a strong intention to prepare Columbia students to participate in God's mission within a rapidly changing world.  We expect to have more details on how our academic programming will be adapted in the weeks and months ahead.
Any questions regarding this program shift can be directed to academics@columbiabc.edu
Tribute to Professor Emeritus Jürgen Schönwetter - January 6, 2022
Jürgen Schönwetter (1938-2021) 
After a life filled with love for God, family, and dear friends, Jürgen Schönwetter, passed away unexpectedly in his sleep on December 23, 2021. Jürgen had a passion for learning and discovering, for teaching, and a love for music. Most of Jürgen's ministry career was spent at Columbia Bible Institute/College. He taught full-time at the College from 1975-78, and then returned for a much longer stint (1981-2004). He taught part-time on other occasions, while also serving in full-time pastoral roles within the MCBC Conference. 
Jürgen's life was the sum of vast experiences. He was anything but a passive observer. His life-changing encounter with the God of the Bible as a young adult changed his life and plans drastically and continually. Most of Jürgen's adult life was spent "investing in the lives of people, particularly in young people," as he was often heard saying. A favorite saying of his, "The only thing God will ever rescue from this planet is people, His people. Therefore, invest your life in people." Another one of his favorite sayings was, "When I die, I want to be remembered as someone who has done the best with what he's had." There are many Columbia students who will always be grateful for having had the opportunity to learn together with such a kind and committed man of God.  
The following memories are provided by his long-time friend and colleague, Columbia Faculty Emeritus Ron Voth. 
It was 41 years ago to this month that I first met Jürgen Schonwetter. I had just moved into my office behind the old library. His office was two doors down. (John Vooys' office was between us.) Jurgen was a great host. At coffee time he'd have coffee freshly brewed, always with Coffee Mate standing by. We had many wonderful conversations! He was a passionate man. He'd get excited – even a little red faced when he spoke. I gleaned from these conversations that he loved Jesus, loved his family, loved the church, and loved the college students he was teaching.  
His office was remarkable for its size and supply. He set it up to be pleasant and inviting. He also made sure that it was well stocked. Ask him for a paper clip, and he replied, "What size? What colour? What shape? Metal or plastic? He was on the cutting edge with technology. Before the college had computers, he was already equipped. While he may have had a fondness for technology, he invested for the sake of his classes. I can remember him pulling a cart to class on which he had various audio-visual assists for his teaching. Oh, to be the person who could buy his left-over equipment – still top of the line and in top condition after Jurgen's use.  
Jurgen was a passionate teacher. Over the years he taught a variety of courses: Communication, Ethics, Contemporary Religious Movements, World Religions, The Book of James, and toward the end of his time some psychology courses as well. Part of the World Religions course was to visit and host leaders from other religions. Jurgen had remarkable relationships with these leaders. He listened well and then also politely presented his convictions regarding Christ.  
In the last number of years, we'd meet for coffee at his place or go to Tim Horton's. The conversations were seasoned with grace. He had constant pain, his heart was frail, his eyes had weakened so that he could no longer drive…but while acknowledging life's difficulties, he'd always express thankfulness to God. His faith was solid. He was also poised to hear my side of life. When our time ended, he would often say, "I wonder if we could pray before we go?" And we did.  
Campus Renovations - August 2021
Campus Renovations 
Over the course of a few months, renovations were completed on Columbia Hall, the primary male residence. These updates included new floors, completely new bathrooms, and updated windows, all of which give this 40-year-old building a fresh new look!
Columbia Place, our athletics centre, also received a few updates this summer. The gym floor got refinished to include our updated Bearcat logo!
Columbia Bible College Partners with REES to Address & Prevent Sexual Violence on Campus - February 16, 2021
Columbia Bible College launches as first REES partner in BC.
Columbia Bible College has partnered with Manitoba-based REES to make online reporting of sexual violence available to our campus community.
REES (Respect, Educate Empower Survivors) is a 24/7 reporting and information platform that provides increased reporting options for students, staff and faculty to report sexual violence on campus.
"REES provides a victim centered, trauma-informed platform that empowers victims of sexual violence with numerous options for reporting and support. We look forward to integrating REES into our overall vision for a safe campus where all students are able to thrive," says Bryan Born, President of Columbia Bible College.
Sexualized violence is a range of behaviours that includes misconduct, harassment and assault and can occur both in-person and in online spaces. According to the Survey on Individual Safety in the Postsecondary Student Population 2019 from Statistics Canada, a majority (71%) of postsecondary students witnessed or experienced unwanted sexualized behaviours in the past year and one in 10 (11%) women students experienced a sexual assault in a postsecondary setting during the previous year.
"REES empowers survivors by providing a safe, secure space to record incidents of sexual violence on their campuses," said Mary Lobson, Founder of REES "while gathering critical data to inform development of policy, supports and resources. Anonymous reporting enables students to tell their institution about any unwanted sexualized behaviours as they work together to create a safer campus community."
---
The REES Community is an online platform dedicated to supporting survivors of sexual violence through increased reporting options and access to information, resources and supports.
Website: https://reescommunity.com
Contact:
Mary Lobson 
Founder, REES Community
mary@reescommunity.com
1-204-223-5436
Karen Heidebrecht-Thiessen
Dean of Students, Columbia Bible College
Karen.theissen@columbiabc.edu
604-853-3358